Bulgarian Haedong Kumdo workshops with GM Kim
augustus 25 @ 08:00

-

augustus 28 @ 17:00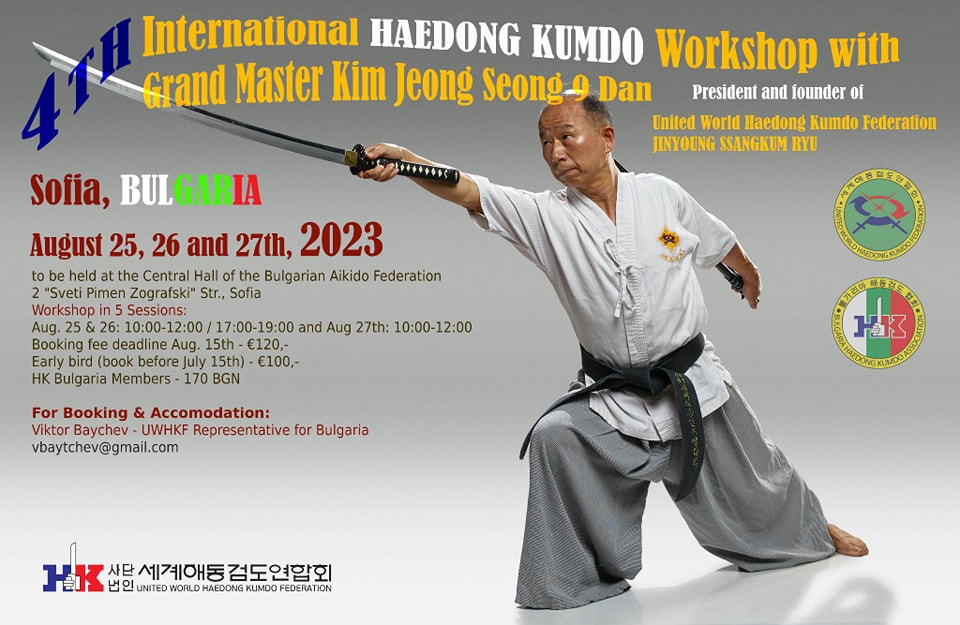 We will see again soon in Sofia, Bulgaria
The annual Haedong Kumdo event organized by Victor Baytchev will be held in Sofia, Bulgaria from August 25th to 28th, 2023. Through the practice of Jinyoung Ssangkum Ryu, participants will cultivate and enhance their martial arts abilities, seeking health and happiness in their lives through the love of the art; Jinyoung Ssangkum Ryu HK.
The seminar will feature various practices such as double sword techniques, sword cutting, and energy experiences, which will help participants understand the fundamental principles of martial arts directly connected with healing. Moreover, Ki-mu practice will bring about a change in consciousness and encourage the pursuit of new values, leading to a profound understanding of the Principle of Nature.
Aside from martial arts training, participants will also have the opportunity to explore nearby travel destinations and create unique memories all together in Bulgaria in 2023. Join and train all together, you may contact Victor Baytchev, a rep of Bulgarian HK Association for your full info.